Antiques, Collectibles, Vintage Shopping

Collector Books, Reviews, Education

Online Museums & Directories

Discover Collectics Variety

Cool Stuff

Vintage Sunglasses Shop

- Authentic vintage Revo, Ray-Ban, Armani, Carrera, Alpina, Cazal, Persol, Vuarnet, Bolle, Oliver Peoples, and French cat's eye sunglasses!

Collectics Antique & Vintage

Sale Coupon

: Save 10% On Entire Order!

The Collectics Antiques Information & Education pages are designed to further knowledge of antiques, collectibles, collecting styles, periods, artists, designers, and manufacturers of fine and decorative arts. To learn more, our Antique Collector Bookstore lists only the best collector books and price guides, complied by surveys of top antique dealers and auction houses. For a different shopping experience, you can also browse our featured selections in a fun new way with the Antique Price Guides Slideshow or see current Amazon.com bestsellers by using Collector Books Topic Search.

"prices 30% below your local antique shop or vintage store plus free shipping." Collectibles Guide 2010

Peanuts © United Feature Syndicate, Inc.
NORTHWOOD GLASS INFORMATION & HISTORY

Collectics Customer Appreciation

Sale Coupon

: Save 10% On Entire Order!
Northwood, a Fenton rival, was founded in 1896 in Indiana, Pennsylvania by the Englishman Harry Northwood, the son of a prominent glassmaker. At the age of 20, he migrated to America in 1880. Prior to founding his own company in 1887, Northwood had worked at a number of well known glass manufacturers, apprenticing and thoroughly learning the trade. He joined with the National Glass Company briefly only to subsequently form the Harry Northwood Glass Company in 1901 in Wheeling, West Virginia. Familiar with glass iridescence manufacturing methods from his work in England, Northwood started making iridescent Carnival glass formed in pressed glass molds about 1908 for a wide American market. Carnival glass soon became their most popular product, introducing design patterns such as grape and cable, wild rose, leaf and beads, singing birds, beaded cable, and peacock at the fountain. Golden Iris was an early popular interpretation of marigold Carnival glass, very desirable for its properties of reflecting light and color in its iridescence.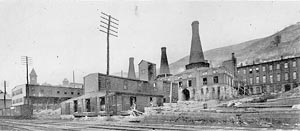 Northwood Glass Co. c. 1914
Harry worked with his brother Carl, who was creative where Harry was more business focused, and he worked in the decoration area as a perfect complement to Harry. The grape & cable pattern alone was produced in a fascinating array of vases, dishes, compotes, bowls, and accessories, and other companies soon began copying their designs given the lax copyright laws in the U.S. during that time. Northwood produced a wide variety of opalescent, decorated, and special effect glasses like splatter glass, and colors like iridescent blue and green which were not widely seen at the time. Northwood began producing iridescent custard glass about 1914 with the end of World War I, a cream colored glass with pastel iridescent overlay. Northwood marked many of their pieces with an N in a circle or an N underlined, interesting since so much Carnival glass was unmarked. When Harry Northwood died from disease in 1918, the company began to falter until finally closing in 1925.
Ever been fooled by a fake or a seller that didn't deliver the goods as described? At Collectics, we authenticate and stand behind everything we sell, at prices "30% below your local antique shop" according to Collectibles Guide 2010. Please browse our main Antiques & Collectibles Mall to find a treat for yourself or a great gift for others, all with free shipping. Thanks for visiting and shopping at Collectics!

Buy period Northwood, Fenton, Carnival, and other depression glass on the Collectics Glass & Crystal pages, or search the entire site for great antiques, collectibles, and crafts for every collector!
---
Collectics Antiques & Collectibles Collector Bookstore

Only the best collector books and price guides on collecting antiques and collectibles, plus Amazon.com Topic Search & top rated Collector Book Reviews!

Northwood Carnival Glass 1908-1925
The Art of Carnival Glass (Schiffer Book for Collectors)
Cool Coupons & Promo Coupon Codes for Disney, Brookstone, Avon, Netflix, eBags, and more @ our

Coupon Site

!

Amazon.com: Earth's Biggest Store!
Collector Book Purchases & Advertising Support Our Free Online Museums, Antiques & Collectibles Information, and Directories - Thank You!
Display Cases

for collectibles, figurines, diecast cars, sports memorabilia, dolls, and more!
Copyright © Collectics. All rights reserved.