Antiques, Collectibles, Vintage Shopping

Collector Books, Reviews, Education

Online Museums & Directories

Discover Collectics Variety

Cool Stuff

Vintage Sunglasses Shop

- Authentic vintage Revo, Ray-Ban, Armani, Carrera, Alpina, Cazal, Persol, Vuarnet, Bolle, Oliver Peoples, and French cat's eye sunglasses!

Collectics Antique & Vintage

Sale Coupon

: Save 10% On Entire Order!

The Collectics Antiques Information & Education pages are designed to further knowledge of antiques, collectibles, collecting styles, periods, artists, designers, and manufacturers of fine and decorative arts. To learn more, our Antique Collector Bookstore lists only the best collector books and price guides, complied by surveys of top antique dealers and auction houses. For a different shopping experience, you can also browse our featured selections in a fun new way with the Antique Price Guides Slideshow or see current Amazon.com bestsellers by using Collector Books Topic Search.

"prices 30% below your local antique shop or vintage store plus free shipping." Collectibles Guide 2010

Peanuts © United Feature Syndicate, Inc.
MCCOY POTTERY INFORMATION & HISTORY

Collectics Customer Appreciation

Sale Coupon

: Save 10% On Entire Order!
In 1910, Nelson McCoy and his father J. W. McCoy started the Nelson McCoy Sanitary Stoneware Co. in Roseville, Ohio. Ohio provided great natural clay which they mined for themselves and sold to other area potteries, and they began to manufacture decorative stoneware. They were able to take advantage both of the area's natural resources as well as the skilled area workforce in earthenware. McCoy was successful almost from the start, and they made a diverse array of functional items from kitchen and food storage items to foot warmers. In 1925, the Nelson McCoy Sanitary Stoneware Co. began a major expansion in 1925 and built much larger and more modern facilities for design and production. They were consequently able to produce many new types of art pottery for the more affluent, and soon decorative pottery in the form of vases, umbrella stands, pedastals, and jardinieres became the majority of their production.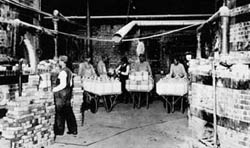 Preparing Pottery For Firing in the Kiln c. 1930

McCoy hired designers and artisans to fashion the art pottery and decoration, and they began to experiment with new and blended glazes. Early designs by Walter Bauer reflected nature in the form of leaves and berries, and coloration was typically earth tone with browns and greens. McCoy did not abandon the mass market during this period, continuing to produce functional pottery in a green glaze in large quantitities. During the Depression, McCoy banded together with other area potteries to consolidate marketing and sales for the participants, thus saving money. This organization was called the American Clay Products Co., and it included the Burley, Logan, and Crooksville Pottery Companies among others. This cooperative effort did not work very well, resulting in similar products and more production than the market could support. In 1933, the company changed its name to the Nelson McCoy Pottery Company. The 1930s designs introduced some of McCoy's best known work beyond the floral themes of Walter Bauer, producing whimsical planters such as The Wishing Well, The Hunting Dog, and Down By The Old Mill Stream. They produced primarily cookie jars from about 1940 and into the 1960s, and these cookie jars such as the original "Mammy" remain extremely popular with collectors today. In the sixties, McCoy went into a spiral of decline as cheaper overseas imports made it increasingly difficult for the company to make a profit. McCoy was first sold to The Mount Clemens Pottery Company in 1967 and later to the Lancaster Colony Corporation in 1974, and all further production ceased in 1990 and the company went out of business.

Early McCoy pottery has a mark which is a circle with a shield inside, and typically a number which reflects the capacity of the specific container in gallons. They also used a clover with a double shield, and an M above it. Most production after about 1938 has the McCoy mark incised or embossed on the bottom.

Ever been fooled by a fake or a seller that didn't deliver the goods as described? At Collectics, we authenticate and stand behind everything we sell, at prices "30% below your local antique shop" according to Collectibles Guide 2010. Please browse our main Antiques & Collectibles Mall to find a treat for yourself or a great gift for others, all with free shipping. Thanks for visiting and shopping at Collectics!


Buy period McCoy Pottery plus Weller, Hull, Rookwood, Van Briggle, Roseville, and much more on the Collectics Pottery and Kitchenware pages, or search the entire site for great antiques, collectibles, and crafts for every collector!
---
Collectics Antiques & Collectibles Collector Bookstore

Only the best collector books and price guides on collecting antiques and collectibles, plus Amazon.com Topic Search & top rated Collector Book Reviews!

Sanfords' Guide to McCoy Pottery
Roseville In All Its Splendor
Cool Coupons & Promo Coupon Codes for Disney, Brookstone, Avon, Netflix, eBags, and more @ our

Coupon Site

!

Amazon.com: Earth's Biggest Store!
Collector Book Purchases & Advertising Support Our Free Online Museums, Antiques & Collectibles Information, and Directories - Thank You!
Display Cases

for collectibles, figurines, diecast cars, sports memorabilia, dolls, and more!
Copyright © Collectics. All rights reserved.