Antiques, Collectibles, Vintage Shopping

Collector Books, Reviews, Education

Online Museums & Directories

Discover Collectics Variety

Cool Stuff

Vintage Sunglasses Shop

- Authentic vintage Revo, Ray-Ban, Armani, Carrera, Alpina, Cazal, Persol, Vuarnet, Bolle, Oliver Peoples, and French cat's eye sunglasses!

Collectics Antique & Vintage

Sale Coupon

: Save 10% On Entire Order!

The Collectics Antiques Information & Education pages are designed to further knowledge of antiques, collectibles, collecting styles, periods, artists, designers, and manufacturers of fine and decorative arts. To learn more, our Antique Collector Bookstore lists only the best collector books and price guides, complied by surveys of top antique dealers and auction houses. For a different shopping experience, you can also browse our featured selections in a fun new way with the Antique Price Guides Slideshow or see current Amazon.com bestsellers by using Collector Books Topic Search.

"prices 30% below your local antique shop or vintage store plus free shipping." Collectibles Guide 2010

Peanuts © United Feature Syndicate, Inc.
EMILE GALLE GLASS INFORMATION, HISTORY, BIOGRAPHY

Collectics Customer Appreciation

Sale Coupon

: Save 10% On Entire Order!
The famous French glass artist Emile Galle was born in Nancy, France in 1846 into a rapidly industrializing world with major scientific advances. His father Charles Galle owned a ceramics and glassmaking factory, and in his early years Emile was exposed academically to botany, art, entomology,and chemistry, disciplines which were to serve him well in his later artistic career. In his teens, Galle traveled widely and even fought in the war between France and Prussia, and in London he was fascinated by the enameling techniques seen in the oriental collection of the Victoria & Albert Museum. He began working for the Burgun, Schverer glass company in Meisenthal before establishing his own company in 1873. While he found experimenting with classical and enameled designs interesting, his aspirations were dramatically expanded when seeing the International Exhibition in Paris in 1878. There, he was exposed in particular to the cameo glass of Joseph Locke and John Northwood from England and Eugene Rousseau in pate de verre. Galle was about to combine his love of nature, his chemical training, and his artistic eye to the worlds of cameo glass, caramics, marquetry, and beyond.

Galle opened a small woodworkers shop in 1885 where he began experimenting in marquetry designs in furniture, and he continued working at his father's factory. In 1889, Emile Galle displayed his new glass creations at the Paris International Exhibition, designs and colors not previously seen and causing an immediate sensation. The new style of Art Nouveau had begun to appear, and Art Nouveau aesthetics and love of nature appealed naturally to the still young Emile Galle. Burgun, Schverer produced Galle's designs when he first established his studio, but in 1894 Galle built his own manufacturing plant in Nancy and began creating his own designs from inception through production. Galle personally created many of the designs, and he was known to actively make alterations and approve the designs of his talented team of designers and craftsmen he employed at the "Cristallerie D'Emile Galle."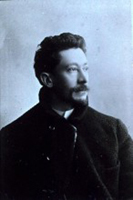 Emile Galle c. 1895

As a botanist, his designs are inspired by nature, like insects, flowers, dragonflies, and the concentration of dew on leaves. Galle won many awards throughout his life including the French Legion of Honor, and he enjoyed great popularity and lucrative commissions throughout. He produced both complex, intricate glass designs that took days of painstaking effort to create as well as high quality art glass which was no less beautiful but was less expensive to produce. Galle work and cameo glass in particular has always been widely copied even during Emile Galle's lifetime. His style influenced many of his contemporaries including Daum, Muller Freres, and Le Verre Francais, who became collectively known as the "School of Nancy" and of which Galle was elected the first President.

Galle died in 1904 from leukemia at the age of 58, and his widow continued to make Galle glass designs in the factory until the advent of World War I in 1914 and still using his signature on the pieces but adding a star after the "Galle" following his death. After World War I, Paul Perdrizet, Emile's son-in-law, began producing Galle glass once again, even adding new designs and primarily making the multi-layer cameo glass in floral and landscape designs. Galle cameo glass was both wheel cut and acid eteched, both techniques which required fine craftsmanship to produce and in which layers of multi-colored glass is progressively removed to create the designs. All Galle production ceased in 1936 although reproductions and fakes are still made in great quantities to fool the uninformed.

Ever been fooled by a fake or a seller that didn't deliver the goods as described? At Collectics, we authenticate and stand behind everything we sell, at prices "30% below your local antique shop" according to Collectibles Guide 2010. Please browse our main Antiques & Collectibles Mall to find a treat for yourself or a great gift for others, all with free shipping. Thanks for visiting and shopping at Collectics!


Buy period Galle and Art Nouveau decorative arts on the Collectics Art Deco & Art Nouveau and Fine Antiques pages, or search the entire site for great antiques, collectibles, and crafts for every collector!

Sell or consign period Galle Art Nouveau glass, ceramics, and lamps at Collectics, where we earn our customers' trust everyday! Read about our top performing national consignment program for estate and personal collections.
---
Collectics Antiques & Collectibles Collector Bookstore

Only the best collector books and price guides on collecting antiques and collectibles, plus Amazon.com Topic Search & top rated Collector Book Reviews!

Emile Galle: Dreams into Glass
Tiffany Favrile Art Glass (Schiffer Book for Collectors)
Cool Coupons & Promo Coupon Codes for Disney, Brookstone, Avon, Netflix, eBags, and more @ our

Coupon Site

!

Amazon.com: Earth's Biggest Store!
Collector Book Purchases & Advertising Support Our Free Online Museums, Antiques & Collectibles Information, and Directories - Thank You!
Display Cases

for collectibles, figurines, diecast cars, sports memorabilia, dolls, and more!
Copyright © Collectics. All rights reserved.